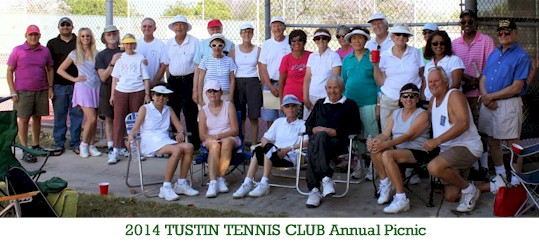 The TUSTIN TENNIS CLUB (Tustin, Southern California) is a social and recreational tennis club for men and women of all ages and skill levels.
The social tennis format is 'turn up and play doubles', Mondays , Wednesdays and Fridays, after 8AM-11AM.
The club is a non-profit organization and was started in 1973. We are a friendly group who play for fun, with skill levels of 2.0-4.0.
The courts are also reserved on Friday from 6-9PM and Saturday from 2-6PM, for those wanting to arrange to play with other club members.
MEMBERSHIP:
PER PERSON — Yearly $25
TWO PERSONS IN ONE HOUSEHOLD — $40
ACTIVITIES:
Team Tennis
Tournaments
Annual Picnic – May
Getaway Weekend – August
Holiday Dinner
Women's League Team